Home » Providers
Knowledge Management training and education @

Adelaide KM Group

Established: 2006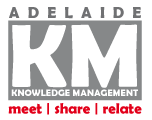 The Adelaide KM Group1), formerly the Gurteen Knowledge Cafe Adelaide, but still "proudly associated with David Gurteen's Knowledge Community", is a group of practitioners, educators and researchers working in Knowledge Management in South Australia. The Group is a forum for exchange and learning, and operates as a community of practice.
The Adelaide KM Group offers the following Knowledge Management education and training opportunities:
Meetings
…on topics in Knowledge Management

Events
Enabling Knowledge for Innovation (2016-10)2)
Web Channels:
Related Content:
Favorite!
Notes:
1) Predecessor was the South Australian KM Forum, founded in 2004 by Helen Paige, the initiator and long-standing Chair of the Adelaide KM Group.
2) 20 October 2016 as a part of the OpenState events - 10 days of collaboration, innovation, ideas & enterprise; In co-operation with the University of Adelaide's Executive Education
Type:  0 US$ / 4Free,  1-11 hours,  English language,  Public KMedu, Australia (AUS), Face-to-face KMedu, Featured Providers: Oceania, Non-degree KMedu, Offers from Communities
Tags: Australian Society for Knowledge Management (AuSKM), Gurteen Knowledge Cafés, Gurteen Knowledge Community, ISO 9001, ISO 9001:2015, knowledge management, New South Wales Knowledge Management Forum (NSW KM Forum), quality management, South Australian KM Forum (SAKMF)*, The Paige Group
Home » Providers
Legend:
* Provider does no longer offer any KMedu; This is a recurring conference
** This recurring conference / KMedu offer is discontinued